March 4, 2015
An Exciting Update on Georgia Aquarium's Beluga Pregnancy!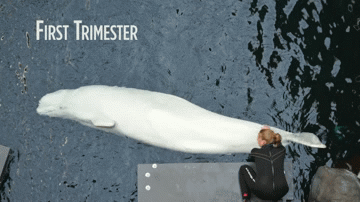 The moment we've been waiting for is drawing near! Late last year, we announced that Maris, our 20-year-old beluga whale, is expecting a calf this spring. She is currently in her final trimester with her delivery expected very soon.

Pregnancy and giving birth is a delicate process for all mammals, and the aquatic environment makes it even more so with marine mammals. Georgia Aquarium's veterinary and animal care teams continue to closely monitor Maris' health and the health of her calf through routine blood and hormone monitoring, as well as weekly ultrasounds that allow us to track the growth and development of the calf.
We are happy to report that Maris is healthy and in good body condition and her calf appears to be progressing well. Staff has seen the calf moving while Maris swims or interacts with staff for quite some time, which is another positive sign.
The team is hopeful for a successful outcome, but remains cautiously optimistic given that this is just Maris' second pregnancy. First-time pregnancies in beluga whales and other cetaceans are often unsuccessful in both the wild as well as in zoological facilities. Chances for a successful birth increase with each beluga whale pregnancy.
"Maris' pregnancy has progressed normally and routine monitoring suggests that the calf's development is on track," says Dr. Tonya Clauss., Georgia Aquarium's Director of Animal Health. "We are guardedly optimistic that the calf will be born healthy. If the birth is successful, there will be other early milestones to achieve, including bonding with Maris and successful nursing."
As the birth of Maris' calf draws near, the animal care team closely watches for any changes in Maris' behavior, swim patterns and food consumption. The team is measuring Maris' body temperature daily. Decreases in body temperature along with other behavioral and physiological changes are key indicators of labor. She is on 24-hour observation to allow the team to detect labor as soon as it begins.